Zagg Invisible Shield Review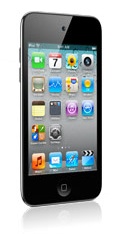 Update: We have posted a newer Zagg Invisible Shield Review. That article reviews the product on a MyTouch 4G, and this article reviews the product on an iPod Touch.
It's been a week since I installed the Zagg Invisible Shield on my iPod Touch and it's time for my review. For a quick introduction, the invisible shield full body protection costs $25 from Zagg and has a lifetime warranty. It's great for protecting the iPod Touch without having any extra added thickness. I chose it so my iPod Touch could look great outside of a case without getting scratched (I've seen those iPod Touch back with so many scratches you can't even see that it's a mirror).
Install
The worst part of the Zagg Invisible Shield is the install. I had read that it could take half an hour to one hour to install the shield, but I had no idea it would take me an hour to get it installed. The most important thing to remember is to take your time. I wouldn't recommend starting an install if you don't have an hour and a half. (You might want to read our install instructions)
The front was pretty easy. It didn't take more than five minutes. You use the sponge (no more spray) to get the shield wet while you're peeling it off to avoid getting any dust or fingerprints on it and then you align it and drop it onto the iPod. You can then move around the invisible shield to get it perfect. You can then use the Installation Card (no more squeegee) to get all the air bubbles out. Afterward, just remember to put the small circular part on the home button.
The back of the iPod Touch is the difficult part to install. It all comes in one large piece with cutouts. I used the volume control buttons to align the back of the invisible shield. Once you apply the solution to it and set it down it's easy to get all the air out of the center. The difficult part is getting it to sit down on the corners and the sides. One warning for the palming and rubber band techniques: Be careful not to stretch the invisible shield. I didn't use a hair dryer but it would help to use that to get the corners and sides to lay down. It takes a very long time to get them to set down and stay down. You also have to be careful not to push them towards the center of the iPod Touch at all, because this will lift up the invisible shield and create a huge air bubble for you. After you're done with the back, I recommend using a rubber band to hold all the corners down while it dries (I had mine dry for 24 hours.)
You can read more about the install in our post specifically about the Zagg Invisible Shield install. The second time I installed it I found some nice techniques. For example, don't use the rubber band to get corners to lay down, use it only after they have lied down and are staying down. The purpose of the rubber band is to keep corners down while the Invisible Shield is drying. Another thing I found is that the palming technique should also be done after the shield is sticking to the corners, otherwise you will only stretch your corners and you still won't get the desired effect.
Usage
After a week of using my iPod Touch with Zagg's Invisible Shield, here is what I have to say. I'm very proud of the invisible shield because it doesn't attract fingerprints or smudges (like my old Belkin screen protector did). It also doesn't seem to scratch. It's also not like some screen shield where you can see some type of static or something (On some cheap screen shields, it looks like there are thousands of colored dots smaller than pixels on it). However, there are some downsides with the Invisible Shield.
I had small imperfections on some corners (small pieces being pushed up) and they quickly filled with lint and dust. (However this wasn't a problem with my second install). The corners also don't feel very secure to me (I feel like they'll start peeling off every time I put the iPod Touch in my pocket or even while I'm holding it). I think the corners could be improved. I also feel like the sides will start coming off every time my hand brushes on the side (You can feel the height of the invisible shield edge). Lastly, there are small bumps on the front part of the invisible shield. They're very tiny and can't be felt with your finger but they're visible. They aren't air pockets or dust or anything (I've seen those) and they're everywhere; I think they might be because of the installation fluid. They're not distracting at all and can hardly be seen but they are worth mentioning (My old Belkin Screen Shield didn't have anything like this). (I've also noticed the Griffin screen shields (the ones that feel more like paper than the Zagg or Belkin) also have some imperfection, it looks like the whole screen is static, so I guess this is something many screen shields have).
Other than that, the Zagg Invisible Shield is great! It will protect your iPod Touch from scratches without bulking it up. If you don't want to spend too much time on install or if you're just looking for a great front-side screen protection, I would highly recommend the $15 Zagg Invisible Shield for the screen only. Remember that the Invisible Shield won't protect your device from drops or shocks, only scratches.
Edit: It seems like those small bumps are referred to as Orange Peel (Wikipedia). It seems like this is a problem with Zagg Invisible Shields (The new ones, including the one I got, are supposed to be better). As I said, they're hardly noticeable.
Edit 2: I noticed that my Invisible Shield had a scratch. It looks like a line of stuck pixels but I was told it was just a micro scratch. I contacted Zagg and they told me I could get a replacement, so I'll be getting one and I'll see if I can get any of the corners to stay down better during my second installation. The thing about this "micro-scratch" is that it can't be prevented. It's not a scratch caused by a key or pen, it's something that happened because of the screen shield sliding in and out of my pockets. It could have been a manufacturing defect because there are no other scratches like this, but we'll see when the replacement Invisible Shield comes.
Edit 3: My replacement is perfect. I was able to do a better installation and there are none of these micro scratches. I also see nearly no orange peel. I don't know if they changed the product (The sponge had a different texture, it felt more like an absorbent sponge than the rubberish sponge I got the first time 🙂 ) but my second install really was a lot better. A tip I found was not to use the Invisible Shield at all while it's drying for 24 hours. You can read more about it in my post about Zagg Invisible Shield install tips, but using it during that time is what greatly increases the visibility of the orange peel. It's so minimal right now you can't even tell it's there (except for the very top of the device).